Michael Owen Questions Quality Alvaro Morata
Ex-England national team striker Michael Owen questioned Alvaro Morata's recruitment by Chelsea in the summer transfer window of 2017.
Morata came from Real Madrid with 65 million euros (about Rp 1 trillion).
He is expected to replace Diego Costa, who scored 20 goals for Chelsea in the 2016-2017 Premier League.
Costa himself did not enter Manager Antonio Conte's plan for the upcoming season.
However, Morata is doubtful to meet those expectations.
"I have a question mark over Morata, he's done well in Italy and Spain but never a starter at Real Madrid," Owen told BolaSport from the Mirror.
"He can score as a substitute, but in a team like Real Madrid you can score four or five goals almost every week, except when against Barcelona," said the figure who had a career in Spain.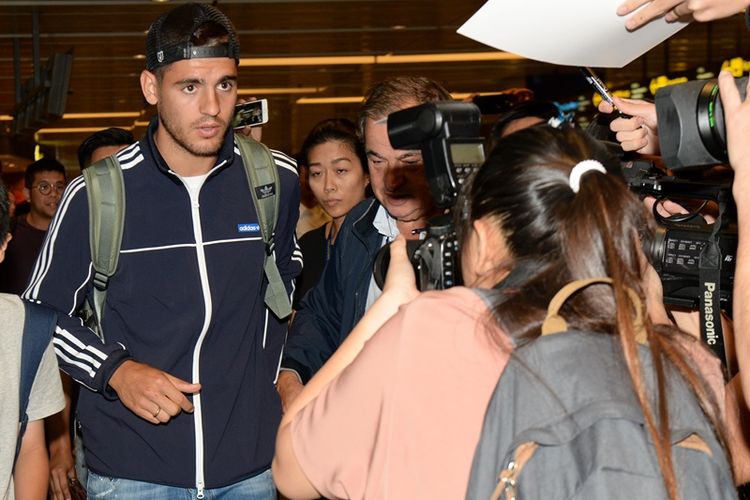 Chelsea striker Alvaro Morata (left) arrives at Changi International Airport, Singapore, on July 22, 2017, as part of Chelsea's Asian tour. Chelsea bought Morata from Real Madrid and tied it with a five-year contract on 21 July 2017.
Morata's acumen as a supersub is already proven in Spain.
He scored 15 goals from 26 appearances in the league, 12 matches of them as a substitute.
"There is no doubt that Morata is a good player," Owen said.
"However, he has never played in the Premier League before.This is a factor that determines how good he is," he said.
On the basis of doubts against Morata, Owen also considers Alexandre Lacazette and Romelu Lukaku to perform better.
Lacazette became the last striker of Arsenal, while Lukaku joined Manchester United.